Merry Christmas! When I looked at the date of my last pitiful post, I was embarrassed. I try to help everyone win $500 and then I desert my blog. Well, I am back and I am participating in BooMama's Christmas Tour of Homes 2008. If this is your first time to visit, welcome and please make yourself at home.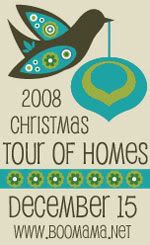 I must tell you that I have been busy decking my halls. It has really been so much fun knowing that you would be stopping by to visit. My tree is a combination of all kinds of ornaments and that is what makes it so beautiful to me. I started collecting Christopher Radko Celebrate Adoption ornaments when my son was born, and they are always one of my favorite things to unpack. So, without further ado...here is my tree!
I just have to tell you that I am very pleased with my tree this year! I think she is just beautiful! You may be wondering what is on the top of my tree...well here is a closer look.
My husband said that it looks like aliens landed on our tree. Truly, he can not appreciate the beauty of lollipops, curly ribbons and glittering green balls bursting forth to celebrate Christmas. I must confess that I copied this idea from my local craft store's Christmas tree display. It really was love at first sight.

Here are some of my other decorations. This is my mantle and my garland. I must say that
Nesting Places
inspired me this year to update my tired looking garland. I added some more greenary with red berries because I must confess that in previous years my mantle was decorated with $1.99 garland with some lights in it. So I fluffed it up a little this year and it does look much better.
My son who will be eight the day after Christmas loves nutcrackers. We have several nutcracker ornaments guarding the bottom of our tree. If you look real close you will see a very small nutcracker next to the large one in the middle. Please guess his name!?! May I introduce you to Jason. I mean doesn't that name scream mighty nutcracker!
This is my favorite nativity. I love the Willowtree figurines. I have this placed next to our tv. I want myself and my family to stay mindful of why we are celebrating.
God's amazing love for each of us was demonstrated with the birth of Jesus. My prayer is that you know, accept and abide in His love for you.
Next, I will take you to my kitchen. This year I only placed the tree in the kitchen. In the past I have filled the buffet with snowmen and the like, but this year I just decided to be a little simplier. Please pardon the stuff I have hiding in the corner. I really tried to angle the picture so you wouldn't see it, but it did not really work.

So, I will conclude the tour by taking you back to the foyer. This is where I have my Christmas village displayed. I started collecting these a few years ago. You will see the town's Bed and Breakfast, Church, Clock tower and Farm along with a pond. All I need are some ice skaters on my pond.

Thank you so much for dropping by to visit. It has truly been a pleasure to have you. May you have a very Merry Christmas and a Happy New Year!